BUNNY MONEY PARTY AT KARAMBA CASINO TODAY 25 MARCH
Join the "€20,000 Bunny Money Party" this Easter - Only at Karamba.com!
Sliema, Malta, 21st March 2016: Those guys over at Karamba.com have gone crazy with the Easter weekend promotion they've created for their party-goers… so crazy that they've made us "over egg-cited!". They told us about the Easter weekend celebrations they cooked up, packed with a big cash bonus, lots of bunny fun (we're curious to know what that is), spins and bonuses - that had us putting all our eggs in one big Karamba basket.
We don't want to give too much away, and spoil the "egg-stravagant" promotion, but we've managed to get a few teasers from our inside source (and it's not the Easter bunny!)…
Karamba's team are ready to "egg-splode" with excitement...
"It's complete pandemonium here at Karamba as we prepare for Easter! Our bunny eared chicks (yeah, you've got to see it to believe it…) are laying bonus filled golden eggs quicker than we can cope with – feathers are flying everywhere, but we'll be ready for the big weekend as we don't want egg on our face!

All we can say for now is that our party people better hop on over if they want to enjoy our 4 day "Bunny Money Raffle" - although our bunny isn't for the faint-at-heart! We're giving away an egg-strodinary €20,000! Plus, we've got additional offers to make everyone's balances egg-splode!".
What's Karamba got in store?
From 25th March, Karamba are hosting a 4 day raffle where bets on all games will reward you with tickets! Play enough games and you could get a winning ticket for the draw on 29th March.
If that's not "egg-quisite" enough for you, we've been reliably informed that they're also giving their party-goers a day of "All-Day bonuses". Plus, in true Karamba style, they're giving away Fruity spins – so make sure you join their daily parties so you don't miss out on any of these offers!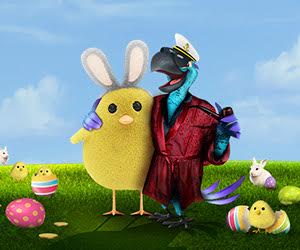 About Karamba:
Karamba is a one-of-a-kind party and fun filled online casino and slots brand. Since actions (and outrageous parties) speak louder than words, experience the fun yourself at Karamba.com today! Let's go Karamba!
---
Other posts
24 Mar 2016-Offer valid as of date published. T&Cs apply.