Compete and win a iPhone6 at newcasinofreespins.com
Compete and Win an iPhone 6

We are currently running a contest here on newcasinofreespins.com where it will raffle out a iPhone 6 to the winner of the contest.
To participate in this contest you must do one or more of the various activities that follow.
1. Like our Facebook page, which you can find here
2. Share our facebook page
3. If you have a website/blog link to http://newcasinofreespins.com/
For each activity you do, you get one entry for a iPhone 6
Once you have done one or more of these activities, please email us at info@poker2casinos.com
enter the contest in the subject line
Indicate which activities you have done, if you have linked to us on a web page or blog post also link to this page where you have linked.
Write your name, contact details like phone number, address where we should send your possible winnings.
The contest runs until 30/5-2015
The draw will take place on 1/6 and the winner will be contacted by telephone and presented here on this page.
Good luck and hope you share and links alot!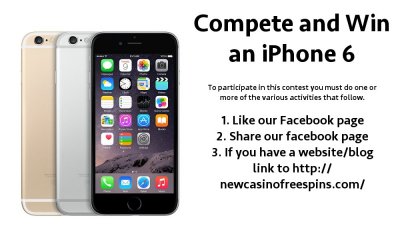 ---
Other posts
24 Apr 2015-Offer valid as of date published. T&Cs apply.