KARAMA LIVE CASINO ARE LIVE TODAY 6 JULY
This is why everyone is scrambling to get invited to
Karamba's Black Tie Vegas event.
Sliema, Malta, 28th June 2016:
If you've ever read our reviews, you will know that with Karamba – we always expect something out of the ordinary. So when a limo with a Karamba logo pulled up to our offices… we knew we were in for some fun. The chauffeur then ran up the stairs to hand deliver us a personalised invitation. Now THAT got our attention!
Inside the envelope, was a photo of the entire Karamba office dressed up in suits and cocktail dresses, cracking open a bottle of champagne - "THIS IS AS REAL AS IT GETS! Get your glad rags on, we've put you on the guestlist!" the caption read.
We called to see what the event was about, and it turns out that Karamba.com have just signed on with Evolution Gaming, and are now running their world class level Live Casino games.
To celebrate this, they are throwing an ultra-exclusive event promising to be swankier than Cannes.
Karamba spokesperson added: "Keep it hush, hush though, we can't invite everyone, and we don't want it getting back to Daniel Craig that he didn't make the list…."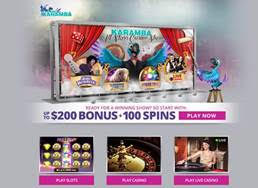 We'll come! But why all the theatrics?
Our contact at Karamba was extremely talkative after the champagne, revealing:
"It's not just live casino... it's Live Casino from Evolution Gaming! This opens a whole new frontier for us! Sure, we have our fun with slots and regular casino games, and that same humour we find even in the more serious Live Casino, but with this, we aim to reach a new crowd of players, the type who have on a 007 smirk while they play their roulette, baccarat or blackjack. Don't forget the Martini alongside it, shaken, not stirred, of course." 
What's so impressive about Evolution Gaming?
After putting it to the test all we can say is that Evolution is to live gaming what the MGM Grand is to casinos… i.e. the TOP of the TOP. If you are a live casino player (which we just happen to be) you'll notice the game quality right away.
Fastest real time streaming: We've never see a roulette ball roll this smooth!
Highly professional dealers to interact with and fast chat: We fell in love with "Jenny", look her up.
Top of the line casino games: Playing Live Roulette, Baccarat & Black Jack, has never felt more like playing in a REAL casino.
These impressive features made all the difference to us, so it wasn't difficult to come to the unanimous conclusion that Karamba.com's choice to partner with Evolution Gaming  was a smart move. Evolution gaming well and truly lives up to its slogan "as real as it gets", and its title of "most popular live casino provider" is not just a lucky strike.
New to live gaming? This is the place you'll want to start.
First time live casino experience seekers – don't waste your time on the other providers who promise to make you feel like you're in Vegas, the only REAL experience out there is Evolution Gaming's Live Casino. As connoisseurs of the live casino industry, we can tell you that this brand truly stands out among competitors and is without a doubt the best casino experience available from the comfort of your own home.
Yes Karamba have done well to secure a partnership with such a prestigious name but to be honest, we wouldn't have expected anything else. We can't wait to see what cards they will be dealing us next!
About Karamba
Karamba is a one-of-a-kind party and fun filled online casino and slots brand. Since actions (and outrageous parties) speak louder than words, experience the fun yourself at Karamba.com
---
Other posts
6 Jul 2016-Offer valid as of date published. T&Cs apply.