Poker Basics Explained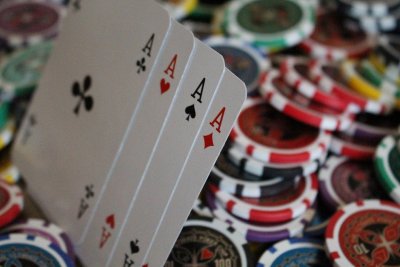 Online poker offer players a massive selection of different variations of the game. Any player with any budget is able to enjoy all the entertainment that it has to offer, thanks to the many different betting amounts. You can literally place 0.01 bets or play a high roller game where the bet amounts are simply staggering!
The great thing about poker is that you can combine luck and skill to better your chances of winning, and this is why online poker is attracting more and more players every day.
Now, if you have no clue how poker works, read on. This is a simplified article that will give you the confidence to start playing. Many sites take it for granted that everyone is familiar with all the terminology that's so frequently used, but they forget that even all pro players had to start from somewhere.
As previously discussed, there are many different variations of poker. If you want a word of advice, start with Texas Hold'em. This variation is relatively easy to learn, but quite difficult to master so the longer you play, the better you'll become.
Poker Rules Explained
Texas Hold'em
Texas Hold'em is made up of four betting rounds and players need to make their best possible 5-card hand. Obviously, you'll need to know which hands are better than others, so memorize this before you start playing.
Each player is dealt two hole cards. Hole cards are for a player exclusively, and cannot be used by any other player at the table. After the two hole cards are dealt, a betting round takes place.
Then three community cards are dealt face-up, referred to as 'the flop'. Community cards are shared among all the players at the table. After a betting round the fourth community card is dealt (the turn) which is followed by a betting round and the final community card (the river).
After the final betting round, players need to make their best possible 5-card hand using one or two hole cards and three or four community cards. The player with the best hand wins.
Players have three options:
Fold: Throw away their hand and pay nothing to the pot.
Call: Match the amount of the bet
Raise: Raise the bet
Omaha
Omaha has the same rules as Texas Hold'em, but in this variation, players are dealt four hole cards and not two, like in Hold'em. Players need to use exactly two of their hole cards and three community cards to make their best possible 5-card hand.
Seven-card Stud
Believe it or not, but seven-card stud was even more popular than Texas Holde'm before the poker boom in 2003, when Chris Moneymaker won the World Series of Poker Main Event after qualifying through an online poker site. He walked away with $2.5 million after spending only $40 on a buy-in. So, it comes as no surprise that Hold'em has since been the most popular variation, but don't underestimate seven-card stud.
All players are dealt two cards face-down and one card face-up. The player with the lowest value face-up card starts the betting round. The fourth, fifth and sixth cards are dealt face up and the seventh card is dealt face down. After each card is dealt, a betting round takes place. There are no community cards in this variation and the player with the best 5-card hand wins.
---
Other posts
24 Sep 2018-Offer valid as of date published. T&Cs apply.