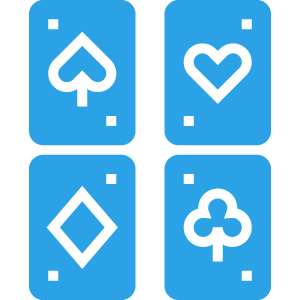 Newcasinofreespins.com is a responsible casino content website specialising in promoting the latest free spins, bonuses and other noteworthy promotions. We are committed to creating a safe and enjoyable online casino environment for you, our customers – because you are valued players. We support responsible gambling and believe in the importance of practising it in a regulated manner, whilst still maintaining a good level of enjoyment and entertainment.
The majority of online casino players play responsibly, enjoy their casino experience and spend money diligently and in a way they can afford. Nevertheless, for a few persons, gambling can become a problem. This page is dedicated to explaining the various measures that we have in place to ensure that our users play responsibly, safely ultimately, enjoy their overall gaming experience.
Repsonsible Gambling Tips
In order to ensure gambling is a leisurely activity practised in a responsible way, we decided it would be useful to compile a practical and helpful list of tips:
Always gamble for fun and entertainment purposes
Never allow gambling to become a source of stress and/or anxiety
Acknowledge the signs of problem gambling and addiction
Educate yourself – this is the best prevention
Be sure to set a maximum budget: decide how much you can afford to lose and how much you want to spend gambling
Look at the money you lose as an expense for entertainment and any winnings should be seen as a bonus
Never chase losses and stick to your limit
Set a time limit and discipline yourself to actually sticking to it
Once this limit has expired, be sure to stop playing at that time whether you are on a winning or losing streak
Don't expect to win every time you play
Never see gambling as a guaranteed source of income
Accept that the games has odds and such odds are against you
Remember, losing is part of the game
Never resort to borrowing money to gamble – avoid credit, loans or borrowing from others
Make sure you are playing for fun
Don't ever allow gambling affect your personal and/or social life
We have compiled a few simple tips for you which could help you manage your winnings, losses and overall gambling better. You can view our article about winning and losing at online casinos here.
Do You Have a Gambling Problem?
Are you spending a lot of money on or gambling?
Is it more than you can actually afford?
Have you ever borrowed money or sold any of your possessions to feed your gambling habit?
Do you keep your gambling a secret and/or lie to your friends and family about it?
Have you ever tried making up for previous gambling losses?
Have you ever felt the need to gamble with large amounts of money to get the same level of excitement?
Do you ever gamble under the influence of alcohol or other substances?
Has gambling ever served as a form of escapism? (i.e. to escape worry, trouble or boredom)
Has gambling ever been the source of any health problems such as stress or anxiety?
Has your gambling caused any financial problems for you or your loved ones?
Answering yes to one or more of the above questions may very well indicate that you have a compulsive gambling problem or signs of gambling addiction. It is for this reason we strongly recommend that you are completely honest with yourself and where applicable, seek the relevant support and advice listed below organizations.
Seeking Help
If you feel that you or one of your loved ones need some professional help and support to help a potential gambling problem, we suggest you to visit one of the below websites. All of the below organisations specialise in responsible gambling support as well as gambling addiction treatment.
Provides information to aid individuals make educated choices about their gambling habits. They will help you find out more about gambling and the definition of safer gambling. Their team helps persons seeking help better understand and recognise problem gambling, while showing them where to go for further information, help and support. To find out more about GambleAware, click here.
GamCare's employees are devoted as well as experienced professionals, who help problem gamblers as well as their loved ones. Most of their employees work directly with problem gamblers, offering advice over the phone and online or through face-to-face counselling. We also have an education and prevention team working to raise awareness and prevent problem gambling before it even appears. For further information, click here.
This organisation does its best to reach out and offer effective help and advice to those in need – Gambling Therapy offers a variety of support options whether you or someone you love is suffering from gambling addiction. For more information, click here.
Staying in Control
The suggestions hereunder are listed to help you keep gambling fun. Granted, you may very well never need them, but you should use them if you feel the need to.
Set Yourself Deposit Limits
Limit your deposits: whether you choose such limitation for a day, week or month you will be enabling yourself to restrict the amount you put into your account. Each operator will have a feature to set specific limits or controls to help players keep in control of their spending.
Schedule Cooling-off Periods
How about blocking your access to the online gaming world for a while? Plan a set time away from the operator by setting a cool-off period between one and 30 days. The operators shouldn't communicate to you with sign-up bonuses or free spins, so you will not feel tempted to get back into the habit before it may be too soon.
Opt for Self-exclusion
Every operator is required to offer players with the option to self-exclude themselves from gambling online. You can set different time limits – usually from at least one year or permanently. Gambling operators will suspend all marketing and emails to you for the entire time of the exclusion period. It is worth pointing out that the UK even has a self-exclusion system called GAMSTOP allows players to self-exclude from every UK-licensed gambling site or bricks and mortar betting shop in one go.
Take a Social Media Break
Stop following gambling operator social media pages or casino bonus or sports tipster pages that encourage bonuses.
Install Gambling Blocking Software
When you think you need something more to help restrict your gambling – there are tools you can install on your computer or mobile devices to block access to gambling websites – why not try out Betfilter, Gamblock or PlayScan.
Protecting Minors and Under 18s
Being a responsible casino news website is something we do not take lightly. This is why we want to prevent anyone underage gambling or accessing an online gambling website – because this is illegal activity.
It is good to know that Gambling operators have strict protocol to follow and go through certain processes to confirm age and identity using KYC and Bank-ID processes. Companies are prohibited to advertise gambling in a manner which might lure children or under 18s to play.
Nevertheless, we still ask that you take reasonable steps to stop anyone under the legal age of gambling from accessing online gambling products or casino / sports betting / affiliate websites. So what can you do to decrease or completely eliminate the probability of this happening? We have come up with some doable and useful steps:
Never beautify gambling to anyone under the legal age or place bets on their behalf
Do not leave individuals under the age of 18 unattended near your computer or mobile if you have gambling websites open on your desktop or mobile app
Never let anyone under the age of 18 access your credit card or bank account details
Don't use the 'remember password' option when accessing online gambling products.
Use separate and secure profiles for everyone who uses a shared computer.
Do some research on child-protection software such as Cyber patrol, Net Nanny or CYBERsitter to block gambling sites from minors accessing the internet