THRILLS CASINO GIVES 75 FREE SPINS TODAY 25 JULY
THRILLS GIVES 75 FREE SPINS
THRILLS giving Today 75 FREE SPINS on CREATURE FROM THE BLACK LAGOON and THE WILD WATER to all players who deposited €75 YESTERDAY, as usual is all FREE SPINS at Thrills turnover free. Today, there are 2 reload BONUSES you get a 50% up to €50 or 67% up to €20 New players receive 10 free spins on Starburst directly after registration without requiring a deposit
LOG IN OR REGISTER FOR 10 FREE SPINS HERE >>>
THRILLS GIVE AWAY 500 FREE SPINS
Together with THRILLS we have put up a exklusive contest where you have chance to win 500 Free Spins on the new Netent game "Lost Island slot". It's very easy to participate and all who participate in the competition gets 25 FREE SPINS, which of course is without any wagering requirement, as always on Thrills Casino. The winner of the contest will win incredible 500 FREE SPINS . All players can be with in the competition both new and old players. To be in the contest which runs until August 3 makes the following
• MAKE A DEPOSIT OF AT LEAST € 20
• SEND A E-MAIL WITH YOUR USER NAME, DATE AND AMOUNT OF THE DEPOSIT TO info@poker2casinos.com, enter 500 FREE SPINS in the subject line
• YOU ARE NOW IN THE RACE OF 500 FREE SPINS ON August 4
• THE August 4 WE WILL INTRODUCE THE WINNER OF 500 FREE SPINS ON OUR WEBPAGE
• IF YOU NOT HAVE AN ACCOUNT, YOU GET 10 FREE SPINS FOR REGISTRATION + 50 FREE SPINS WITH YOUR FIRST DEPOSIT
• ALL PARTICIPATING IN THE CONTEST WILL GET 25 FREE SPINS ON NEW netent GAME LOST ISLAND SLOT THESE FREE SPINS BECOMES AVAILABLE ON August 4
For questions or more information about this contest, please contact Bruno at bruno.berlafa@thrills.com
LOG IN OR REGISTER TO COMPETE FOR 500 FREE SPINS >>>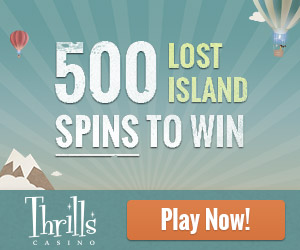 THRILLS SUMMER CALENDAR
Daily surprises on Thrills all summer long! Between June 27th and August 15th there will be Free Spins, Bonuses, Challenges and other happenings every single day in 50 days
This is a really great calendar with so far great promotions! And the best part is that ALL free spins on Thrills casino are wager free, which means that if you win money you can withdrawal whenever you like.
Below you will find the daily offers
Day 26 - Tuesday 22nd of July- Reload and happy hour
Deposit €20 and get a 67% bonus. During 19:00-23:00 CET we will also give out 10 free spins without any wagering requirements on Creature from the Black Lagoon or Wild Water.
Day 27 - Wednesday 23rd of July - Bonus round challenge
Another bonus round challenge and the same story again. Hit the bonus round 3 times on either Wild Water or Creature from the Black Lagoon and you will get 30 Free Spins the following day.
Day 28 - Thursday 24th of July - Deposit = Get free spins!
Deposit €75 and get 75 Free Spins on Wild Water or Creature from the Black Lagoon.
Day 29 - Friday 25th of July - Double Reload bonuses!
We're giving away two reload bonuses, 50% up to €50 + 67% up to €20!
Day 30 - Saturday 26:th of July - Reload
30% reload boost up to €30.
LOGIN AND TAKE PART OF THIS SUMMER CALENDAR>>>
NEW PLAYER GET 10 EXCLUSIVE FREE SPINS ON STARBURST>>>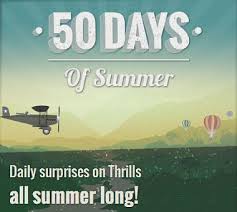 ---
Other posts
25 Jul 2014-Offer valid as of date published. T&Cs apply.